Dino Volcanic Plateau
$10.99 – $149.99
Product Details
The forest seems "off".  Everything is silent but the birds have taken flight in droves.  You feel the rumble before you hear it – THE VOLCANO IS ERUPTING!!!!!  You have two choices.  Follow the footprints of the dino and possibly find safety from the lava or try to find your own way to safety!  What would you do?  Plan your adventure on our dinosaur jungle plates.
Three big baseplate sizes, starting with the 12″x12″ SLAB Lite and expanding up to the massive 48″ x 24″ MDF-backed SLAB, give you the foundation to start something big. Better design means phenomenal strength, rigidity and grip – bricks and figs stay put, wherever you put them and it's easy to pick up and move, slide under the bed, or mount for display once you're done building.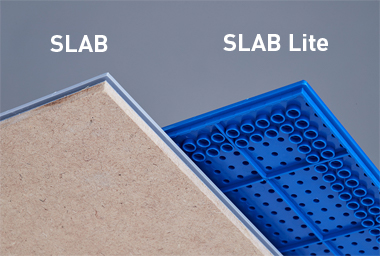 SLAB Lite – Thicker plastic, in-molded ridges for unparalleled stiffness (12″ x 12″)
SLAB – Thicker plastic backed with 3/16" MDF for the ultimate strength and rigidity (24″ x 24″  &  24″ x 48″)
Create Your Own Custom Slab or Slab Lite!
The sky is the limit when it comes to creating your own custom SLAB scene. Amazing realistic graphics pop straight from your imagination onto the SLAB. Design a custom classroom experience, an innovative display, or the most epic play scene ever. Contact us with your wildest dreams.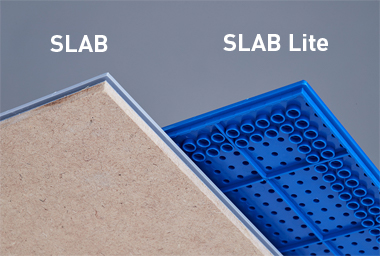 Or call us at: 877-882-4438 ext. 0