Framed 3'x3′ Wall
$175.00
Product Details
Looking for a new way to play?  Want a larger building space but not the weight of our MDF backed 2'x4′ SLABs?  This wall is what you need!!  Built on 3/4″ super strong honey-comb backing and wrapped in it's own decorative frame, this lightweight version of our larger SLAB walls will delight builders of any age.  It's weight and self contained design make it so versatile: play on the floor, on a table or on the wall!
Currently available Blue, Classic Green, Gray and White.  Want a different color, or maybe one of our standard prints?  Use the Contact page to send us a request!
NOTE: Hardware for wall hanging not included.
text
Create Your Own Custom Slab or Slab Lite!
The sky is the limit when it comes to creating your own custom SLAB scene. Amazing realistic graphics pop straight from your imagination onto the SLAB. Design a custom classroom experience, an innovative display, or the most epic play scene ever. Contact us with your wildest dreams.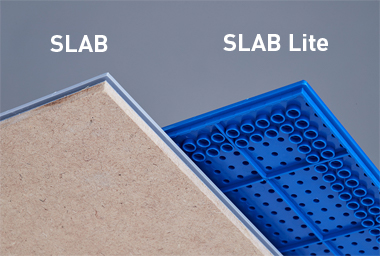 Or call us at: 877-882-4438 ext. 0